Google search removes right hand side ads – What does this mean for you? 
Google AdWords is always constantly changing and it has made a significant change in the way it displays desktop searches on the Search Engine Results Page (SERP).
The right-hand side search results have been removed and will only display top and bottom ads. The space that has been made available on the right hand side will now be showing Product Listing Ads (PLAs). Product listing ads can still appear above search results.
Google is rolling out the change to AdWords globally affecting all languages and will bring desktop closer to the mobile experience.
This change is great news for advertisers and quite controversial for many. Sites which are just focusing on SEO will see that their organic search results are being pushed further down the SERP. Take for example a simple search for companies looking at managed IT services. You can clearly see that there are no organic rankings at all above the fold.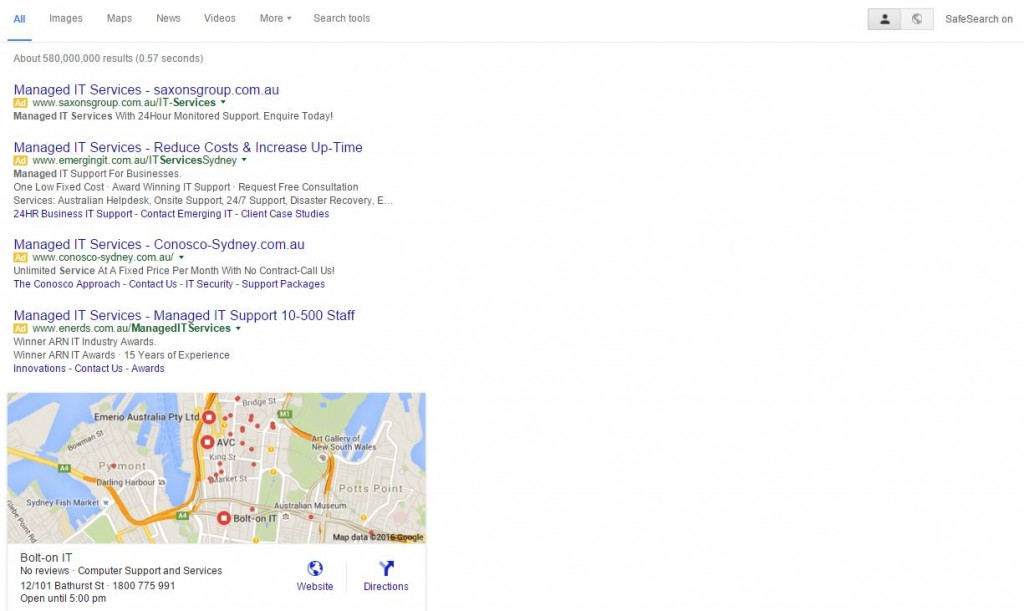 This brings about certain challenges for businesses looking to be found on the SERP through organic results. Focusing on AdWords top 4 positions and Google My Business listings can potentially increase your chances to be found online as it is at times appearing above the organic rankings.
What does this mean for you?
For regular users the Right hand side will feature knowledge graph boxes and product listing ads, the only difference you may see the push down of organic listings.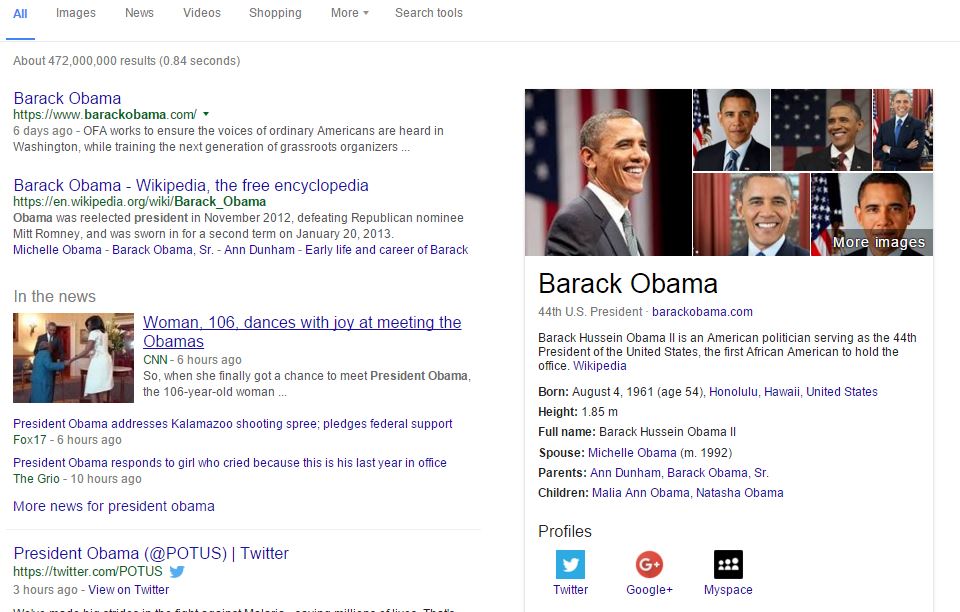 Google is about improving the usability towards the end user and bringing about more relevant results quickly. The knowledge graph boxes appears only at times when a simple answer or fact is required.
As a business, if you are focusing on SEO, it can only get you onto position 5 on Google's Organic results. This is more precious than ever it has been pushed further down the fold.
For advertisers who are currently using AdWords – Ensuring that you are at the minimum of the top 4 positions is crucial. You would definitely want to be managing it so that you would be in the top 4 positions on Google.
As a business you have to consider the ability of reaching potential audience searching for services like yours through PPC. You have to learn and understand the advantages of search marketing and those who are looking at generic terms rather than brand search for your business.
By doing PPC you would have access to use sitelinks to drive people down the deeper level landing pages where users are tend to convert. You would also even have a click to call where users would be able to dial straight to designated phone number and the ability to track these calls.
So why reduce the space for advertisers?
According to Search Engine Watch – the reason for this may be because  ͞Google has determined the average click-through-rate for Right Hand Side Ads is poor across verticals, and the expected CPC inflation from this major change is projected to more profitable in the long run.
Also according to The SEM Post, A Google spokesperson reached out with the following.
͞We've been testing this layout for a long time, so some people might see it on a very small number of commercial queries. We'll continue to make tweaks, but this is designed for highly commercial queries where the layout is able to provide more relevant results for people searching and better performance for advertisers.
Update from Google #2: this change is global and impacts all languages. I asked for clarification on the commercial queries, and they are queries where people express a deep intention to buy.
In Summary, What is changing? And how this impacts you?
Google removed right-hand side hand ads on desktop Organic listings being pushed down below the fold
Google My Business is ranking maps higher for local search intent
SEO ranking on search will be more precious than ever
A fourth top position ad will added to the existing 3 positions
More important now than ever to get into top 4 positions of AdWords
Media Hut Digital is always constantly looking at the updates and tweaks Google makes on AdWords. We are focused on bringing relevant traffic and lead generation towards your business. Talk to us today to see how we can formulate a digital strategy to help grow your business online.